5 Things To Consider While Choosing Wigs for Older Women
0 comments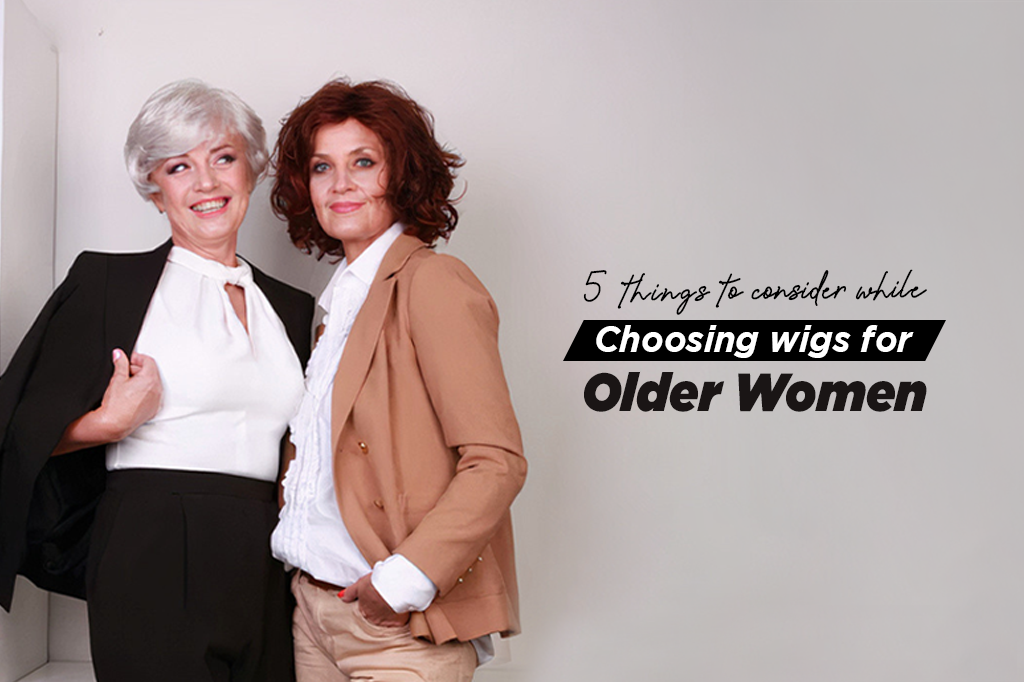 A complete wig shopping guide for older women prioritising their comfort and confidence. Read more to know more about the wig styles and colors that fit older women the most.
In recent years, wigs have become a popular accessory for women of all ages, including older women. Wigs offer a versatile and convenient solution for changing hairstyles and enhancing one's appearance. When it comes to older women, choosing the right wig requires careful consideration to ensure a natural look and ultimate comfort. Some essential factors that one should consider while choosing wigs for older women include style, color, material, cap construction, and maintenance. By paying attention to these details, older women can confidently embrace wigs as a fabulous hair fashion option that helps them feel, look and be their best.
Style and Length
Style and length are vital considerations when choosing wigs for older women. It is important to find a wig that complements the individual's face shape, features, and personal style. For instance, Shorter wigs often work well for older women as they require less maintenance and can create a youthful appearance.
Bob cuts, pixie styles, and layered wigs are popular choices as they provide volume and movement. Additionally, wigs with side-swept bangs can soften facial features and create a more youthful look. Wigs with high-quality Kanekalon fiber give the strands a soft, hair-like feel and appearance.
Bendable ear tabs for a natural fit on the sides of the face, ideal for glasses wearers. These wigs come with extended nape, which makes it easy to hide stray hairs and gives the appearance of a natural taper. One of the most significant features of these wigs is that they are flame retardant and easily washable under cold water with a gentle shampoo. Let air dry and watch the fibers snap back to their style.
Color and Shade
The color and shade of the wig play a significant role in achieving a natural and flattering appearance for older women. It is advised by hair fashion experts to select a color that closely matches the individual's natural hair or a shade that complements their skin tone. Subtle highlights and lowlights can add depth and dimension to the wig, creating a more realistic look.
For older women who do not want to experiment with their preferred hairstyle at all, Sticking to only one single style which suits them the most, there is a huge room for experimenting with different shades of color. For instance, They can hover among rose gold, burgundy, or even caramel if they are white-skinned as these colors go great with white skin. If one wants to go extravagant, then copper is also an option for them. For black and brown skin, pastels, greys, and platinum are the best-suited colors as these colors compliment the skin tone perfectly. One might also want to go blonde if they are thinking of looking bold and out of the box.
And it often goes without mentioning, When in doubt, consulting with a hairstylist or colorist can help determine the most suitable wig color based on skin undertones and personal preferences.
Material Selection
The choice of wig material significantly impacts the comfort and overall appearance of older women. Synthetic wigs are widely available and offer a cost-effective option as they often require less maintenance. They come pre-styled and are generally lightweight. Even in the time of maintenance, they require very less effort. With a mild wash using quality synthetic wig shampoo, it is good to go for another 12-25 instances. However, they may not provide the same level of breathability as natural hair wigs. Natural hair wigs, made from human hair, offer the most realistic and versatile option. They can be styled, colored, and treated like natural hair, providing more seamless integration with the wearer's existing hairline. Although they may require more care, natural hair wigs often deliver superior results in terms of comfort and longevity.
Cap Construction and Fit
The cap construction and fit of a wig significantly impact comfort and natural appearance. Older women should consider the cap type that suits their needs, such as a traditional cap, lace front cap, or monofilament cap. Traditional caps are the most common and affordable, featuring wefts sewn into the cap fabric, while Lace front wigs offer a more natural-looking hairline, as the individual hairs are hand-tied to a sheer lace material.
Monofilament caps provide the most realistic scalp appearance, with individual hairs tied to a sheer fabric that mimics the scalp. Additionally, adjustable straps and ears can ensure a secure and comfortable fit.
Maintenance and Care
Proper maintenance and care are essential to extend the lifespan of wigs and maintain their quality. Synthetic wigs should be washed with specialized wig shampoos and conditioners and gently styled with wig-specific brushes or combs. It is crucial to avoid excessive heat from styling tools, as synthetic fibers can melt or become damaged. Natural hair wigs require similar care to natural hair, including regular washing, conditioning, and styling. Moreover, using heat protectants and professional styling products can help maintain the wig's quality and longevity.
Final Thoughts
Choosing the perfect wig for older women involves careful consideration. With the right wig, older women can effortlessly embrace hair fashion, allowing them to express their personal style and feel confident in their daily lives. Whether for a special occasion or everyday wear, the right wig can be a transformative accessory, enabling older women to look and feel their very best.