Choosing the Perfect Wig for Your Face Shape: A Middle-Aged Woman's Guide
0 comments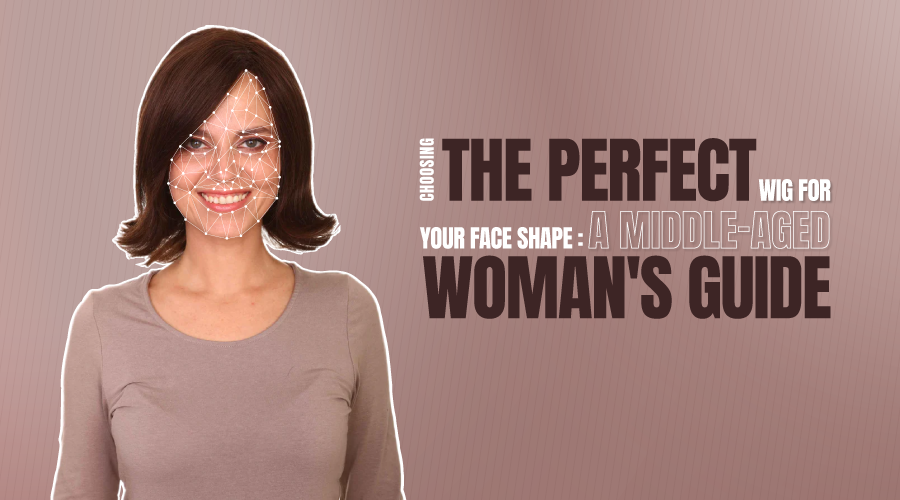 As we age, our bodies and our faces go through a multitude of changes. These changes can occasionally have an impact on our sense of self-worth. Experimenting with your appearance is one approach to get rid of these emotions and increase your confidence. Trying on a wig is the ideal method to achieve that. Here, we'll concentrate on a key components of ideal Middle-Aged Women's Wig making sure it fits their face shape.
Middle age is a unique time in a woman's life. It's the time when we could start to notice minor or major changes in our physical appearance. Hormonal changes, aging, and even individual lifestyle decisions might cause these changes. Even though these changes are a normal part of life, they can occasionally make us feel less confident in our appearance. Wigs provide you the chance to experiment with your appearance, embrace change, and boost your self-esteem, which is one of their wonderful qualities. Middle-Aged Women's Wig can be a great solution for a variety of women's hair problems, including hair loss and thinning. However, not all wigs are created equal, and choosing the right wig for your face shape is essential. With the correct wig, one can highlight her best features and feel more assured than ever. The first step in choosing the ideal wig is to understand the facial shape properly.
Identifying the Face Shape
Before you can start your wig shopping journey, you need to determine your face shape. Oval, round, square, heart, and diamond are the traditional five types of facial shapes. Selecting a wig that matches your face shape can have a transformational effect because every shape has its own distinct traits.
Oval Face Shape
Consider yourself lucky if you have an oval face. Most balanced and adaptable face shapes are thought to be oval faces. Their jawline is a little bit narrower than their forehead. Women with oval faces can pull off a wide range of wig styles, from short and sassy to long and flowing.
Round Face Shape
A round face has soft angles and is characterized by a width that is roughly equal to the length. If your face is round, you should look for wigs that add height and volume to the top while keeping the sides close to your face. This will help create the illusion of a more elongated face.
Square Face Shape
Square faces are defined by a strong jawline and a square-shaped forehead. Wigs that soften the angles of a square face are ideal. Consider wigs with curls or layers to add a touch of softness and femininity.
Heart Face Shape
Women with heart-shaped faces typically have broader foreheads and narrower chins. To balance out this shape, opt for wigs with volume at the chin and neck area. Layers and curls can also soften the forehead.
Diamond Face Shape
Diamond faces have a narrow forehead and chin, with wider cheekbones. To create balance, choose wigs that add volume to the forehead and chin while keeping the sides close to your face.
Wig Styles for Different Face Shapes
After determining the face shape, it is needed to explore Middle-Aged Women's Wig styles that complement one's unique features. Let's take a closer look at some wig options for different face shape:
Pixie Cut
Pixie cuts are a great choice for oval faces since they are short and sassy. They provide you a trendy, low-maintenance look and draw attention to your well-balanced features.
Long Layers: Long layers can nicely frame your face and highlight your natural symmetry if you're going for a more romantic and glitzy appearance.
Asymmetrical Bob
An asymmetrical bob can add the illusion of angles to a round face, making it appear less round. It is a popular hairstyle that features a shorter length on one side of the head and a longer length on the other side. It's a variation of the classic bob haircut, which is typically characterized by a blunt cut that is relatively uniform in length all the way around.
Layered Bob
A layered bob can add volume around the chin area, balancing out your heart-shaped face. A layered bob is a classic and versatile haircut that features varying lengths of hair, or layers, throughout the style. It's a popular choice for those looking for a hairstyle that adds movement, volume, and texture to their hair. Layering involves cutting the hair at different lengths to create a sense of depth and dimension.
Long and Straight
Long and straight hair is a classic and versatile hairstyle that can be both elegant and effortlessly chic. Whether you're blessed with naturally straight locks or you've put in the effort to achieve this look, there are countless ways to wear and style long, straight hair to suit your personality and the occasion.
Side-Swept Bangs
Wigs with side-swept bangs can reduce the appearance of a broad forehead and add a bit of asymmetry. Side-swept bangs, also known as side bangs, are a versatile and stylish way to change up your hairstyle and frame your face. These bangs are characterized by their diagonal or angled placement, starting from one side of the forehead and sweeping across to the other side. Side-swept bangs can complement various hair lengths and types, and they offer a range of looks from casual to sophisticated.
Wavy Styles
Wavy wigs with volume around the jawline can also create a harmonious look for heart-shaped faces. Wavy hairstyles are a popular and timeless choice that combines the best of both straight and curly hair. Wavy hair can look effortlessly chic, and it's versatile enough to suit various occasions and personal styles.
Full Bangs
Full bangs can help reduce the appearance of a narrow forehead and add symmetry to a diamond face. Full bangs, also known as blunt bangs or straight-across bangs, are a classic and bold hairstyle that adds a statement to your overall look. These bangs are characterized by a horizontal, straight line across the forehead, typically falling right above the eyebrows. Full bangs can be customized in terms of thickness and length, and they offer a dramatic and stylish appearance.
Some Middle-Aged Women's Wigs
Wigs can be a fun and versatile way for middle-aged women to change their hairstyle and experiment with different looks. Here are five wig styles suitable for middle-aged women:
Monofilament Lace Front Natural Straight Wig
This type of middle aged women's wig is a fantastic choice for those women who want a comfortable, breathable, and natural look. A monofilament lace front natural straight wig can help you easily and confidently get the look you want, whether you're experiencing hair loss or just want to temporarily modify your hairdo.
Key Features:
High-quality Kanekalon fiber gives the strands a soft, hair-like feel and appearance.

Bendable ear tabs for a natural fit on the sides of the face, ideal for glasses wearers.

Extended nape makes it easy to hide stray hairs and gives the appearance of a natural taper.

Flame retardant and easily washable under cold water with gentle shampoo. Let air dry and watch the fibers snap back to their style.
Textured Pixie Wig
A textured pixie wig is a stylish and modern Middle-Aged Woman's wig option that features a short, cropped hairstyle with various layers and textures. This type of wig is known for its edgy and youthful appearance and offers several key features:
Key Fetaures:
Made of Kanekalon Synthetic Fiber.

Natural Straight Wig.

Natural looking and Soft Touch Straight Hair texture.

High-quality Kanekalon fiber gives the strands a soft, hair-like feel and appearance.

Easily washable under cold water with gentle shampoo.
Natural Curly Wig
A natural curly wig is a well-liked and adaptable option for anyone who want to experiment with their appearance or modify their haircut. The appearance of curly wigs is luscious and energetic, and they are available in a variety of curl patterns to accommodate diverse tastes.
Key Features:
High quality Kanekalon fiber gives the strands a soft, hair-like feel and appearance.

Bendable ear tabs for a natural fit on the sides of the face.

Includes extended nape that hides stray hairs and gives the appearance of a natural taper.

Flame retardant and easily washable under cold water with gentle shampoo.
Wig Cap Construction
Understanding the different wig cap constructions can help you find a style that suits your needs and preferences:
Lace Front
Lace front wigs have a sheer lace front that creates a natural-looking hairline, making them ideal for off-the-face styles.
Monofilament
Monofilament wigs have a mesh cap with a natural parting. They provide the most natural appearance, with the appearance of hair growing from the scalp.
Open Cap
Open cap wigs are lightweight and breathable, making them comfortable for everyday wear. However, they offer less styling versatility.
Final Thoughts
The journey to finding the perfect Middle-Aged Women's Wig can be a rewarding and confidence-boosting experience. As middle-aged women, we often find ourselves at a crossroads of transformation, where our sense of identity and self-confidence may be evolving. The power of a well-selected wig lies not only in its ability to conceal age-related hair changes but in its capacity to reflect your inner beauty, resilience, and strength. It is a tool that allows us to gracefully embrace change while maintaining our sense of style. Your face shape is just one aspect of your overall beauty, and the perfect wig is a tool to help you celebrate and enhance that beauty. With the right choice, you can step out into the world with renewed confidence and radiance, ready to face the middle years of life with style, grace, and an unshakeable sense of self.