DIY Wig Styling Tips for Cancer Patients: Adding a Personal Touch
0 comments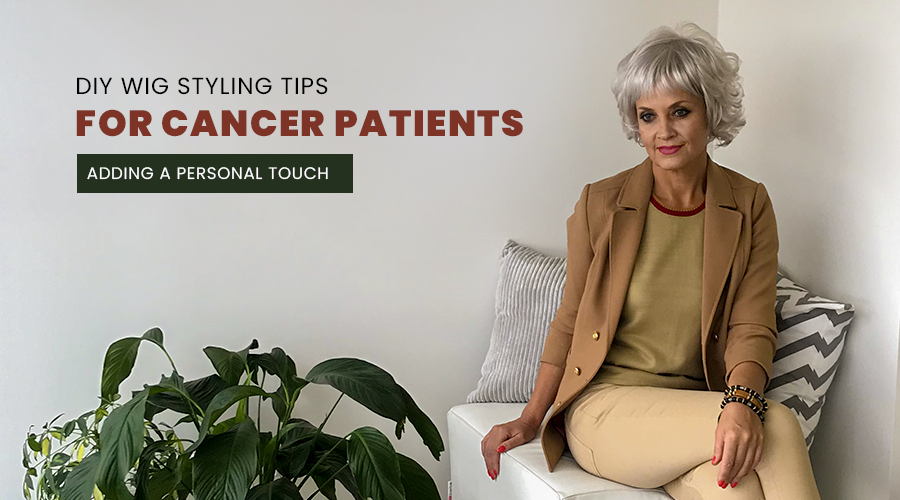 Living with cancer is a journey that touches every aspect of a person's life. From treatment regimens to changes in daily routines, the impact can be profound. We recognize that for cancer patients, coping with hair loss is a significant part of this journey.
Cancer, with its many challenges, often brings about changes in one's appearance, including hair loss. For cancer patients, this transformation can be emotionally and psychologically demanding. At Still Me, we understand the importance of feeling comfortable and confident in your own skin, especially during such a trying time. Our mission is to offer support and solutions, and in this blog post, we'll provide valuable DIY wig styling tips tailored specifically for cancer patients. These tips are designed to not only enhance your natural beauty but also to add a personal touch, allowing you to express your unique style and regain a sense of normalcy.
Choosing the Right Wig: A Foundation for Personalization
Selecting the perfect wig is the initial step in achieving a look that truly represents you. At Still Me, we offer a wide range of high-quality wigs designed with both style and comfort in mind. Our collection encompasses various materials, cap constructions, styles, and colors to cater to your individual preferences and needs.
Wig Material: Understand the benefits of different wig materials, including synthetic and human hair options, to make an informed choice that suits your lifestyle and preferences.
Cap Construction: Learn about the different types of wig caps, such as lace front, monofilament, and basic caps, to find the most comfortable option that aligns with your lifestyle and desired look.
Style Options: Explore a variety of wig styles, from short and sassy to long and elegant, to find the one that complements your face shape and exudes your personal flair.
Color Choices: Consider different shades and highlights to match your natural hair color or embrace a new, exciting look that empowers you.
DIY Wig Styling Tips:
Trimming and Shaping:

Invest in a good pair of wig-specific scissors for precise trimming. Begin with small cuts, and adjust gradually to achieve your desired length.

Heat Styling:

If your wig is heat-friendly, use low heat settings and test on a small section first. Opt for heat-protectant products to shield the fibers from potential damage.

Adding Accessories:

Headbands, scarves, and hats can complement your wig while providing a personal touch. Experiment with different styles to find what makes you feel most comfortable and confident.

Texture and Volume:

Utilize wig-friendly products like texturizing spray or volumizing mousse to add texture and body. Gently tease the fibers to create volume, if desired.

Customizing Hairlines:

Plucking a few strands from the hairline can create a more natural look. Be cautious and patient, as over-plucking can damage the wig.
Classic Wigs from StillMe:
Selecting the perfect wig sets the stage for creating a look that feels uniquely you. Still Me offers a diverse collection of wigs, each crafted to provide both comfort and style. From the Bob with Bangs to the Flame Retardant Synthetic Fiber Wig, our selection ensures that you'll find a wig that suits your preferences and needs.
Bob with Bangs:
The Bob with Bangs is a classic choice that exudes timeless elegance. With its clean lines and versatile length, it's a wig that can be effortlessly styled to suit any occasion. Whether you prefer a sleek and polished look or a tousled, carefree vibe, this wig provides a canvas for your creativity.
Wavy Lace Front Wig:
For those seeking a more natural look, the Wavy Lace Front Wig is an excellent option. The lace front seamlessly blends with your skin, creating the illusion of a natural hairline. You can also use wig styling tools to recreate new looks! Its wavy texture adds a touch of glamor, making it perfect for special events or everyday wear.
Pixie Wig:
Short, sassy, and full of personality, the Pixie Wig is a bold choice that radiates confidence. Its low-maintenance style allows for easy customization, and it's a fantastic option for those who want a chic, fuss-free look.
Safety is a priority, and all of our wigs are Flame Retardant Synthetic Fiber Wig that ensures peace of mind without compromising style. Crafted with high-quality synthetic fibers, our wigs provide a comfortable fit while offering an array of styling possibilities.
Conclusion:
Personalizing your wig is a creative and empowering journey, allowing you to embrace your unique style during a challenging time. By following these DIY wig styling tips and selecting the right wig from Still Me, you can feel confident and beautiful as you navigate your cancer treatment. Remember, it's not just about the wig; it's about expressing your strength and individuality. With the right wig and a touch of personalization, you can face each day with a renewed sense of confidence and grace. At Still Me, we're here to support you every step of the way, helping you look and feel your best.
FAQs:
Can I wash and style my wig like natural hair?

While you can wash wigs, it's best to use wig-specific products and follow the care instructions provided. Styling options may vary depending on the wig's material.

How often should I clean my wig?

It's recommended to clean your wig after 8-10 wears, or if it becomes visibly soiled. Follow the manufacturer's guidelines for best results

Can I color or dye my wig?

It's generally not advisable to color synthetic wigs, as the fibers may not react well to traditional hair dyes. Human hair wigs, however, can be dyed by a professional stylist.

How do I store my wig when not in use?

Store your wig on a wig stand or mannequin to maintain its shape. Keep it away from direct sunlight and heat sources.

Are there specific wig styling products I should use?

Yes, it's important to use wig styling products that are wig-friendly to ensure the longevity of your wig. Look for products labeled as suitable for wig use.