Empowering Cancer Patients with Wigs
0 comments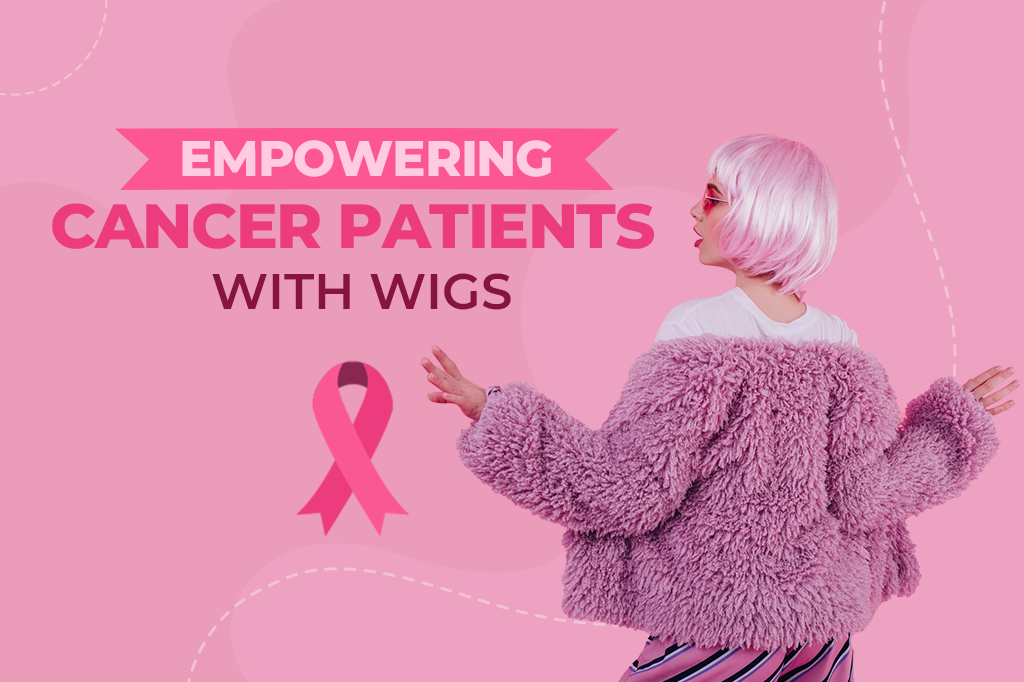 Hair loss is one of the most obvious and distressing side effects of cancer treatment. To address this issue and restore confidence and dignity to cancer patients, wigs have become a powerful tool in the realm of oncology care.
In this blog post, we'll discuss the importance of wigs for cancer patients and how these seemingly simple accessories can make a profound impact on the overall well-being of them!
The Emotional Impact of Hair Loss
Image Source: pantogar
Although hair loss is a benign illness with little physical side effects, the psychological implications can be severe. Hair is an essential component of self-expression and self-image, which hair loss can brutally crush. Women of various ages are susceptible to this frequent dermatological disorder.
Cancer patients especially may find losing their hair to be heartbreaking. Beyond the noticeable bodily changes, it can result in a severe loss of self-esteem, self-confidence, and even a sense of identity. They may consequently feel vulnerable and lack control over their own bodies when cancer therapy results in hair loss. Let's have a look at some significant emotional effects of hair loss on cancer patients:
Hair is often tied to one's identity and self-image, so losing it can lead to a sense of identity loss and feeling disconnected from one's appearance.
It harms one's self-esteem and confidence, making one feel less beautiful and vulnerable.
Visible hair loss causes a greater fear of rejection and condemnation.
Body image difficulties and dissatisfaction might be brought on by hair loss.
Losing hair can result in emotional distress, leading to emotions like grief, rage, frustration, and helplessness.
Dealing with hair loss can exacerbate the stress and anxiety that cancer patients already endure while undergoing treatment.
Intimacy and communication with loved ones may suffer as a result of hair loss in interpersonal interactions.
Role of Wigs in Empowering Cancer Patients
Image Source: Headcovers Unlimited
Although wigs have always been linked to fashion and style, their significance extends beyond aesthetics. Wigs can significantly alter the emotional experience of cancer patients while they are receiving treatment. Wigs empower cancer patients to face the world with fresh confidence and dignity by giving them the chance to restore control over their appearance. Here are some of the ways wigs empower cancer patients:
Wigs offer a way to conceal hair loss, restoring confidence and normalcy. When cancer patients feel more comfortable in their appearance, it positively affects their overall well-being.
Wigs come in various styles, colors, and lengths, allowing cancer patients to express their individuality and creativity.
Patients who wear wigs can feel more at ease in public and social settings and concentrate on making meaningful connections and relationships.
Wigs for cancer patients serve as motivational and inspirational symbols. By embracing their new appearance and facing the world with confidence, cancer patients demonstrate their ability to overcome challenges and inspire others in similar situations.
Patients can more easily concentrate on their health and recuperation with the help of wigs, which provide a time-saving hair styling solution.
Important aspects of wigs for cancer patients
Image Source: Healthline
Wigs used by cancer patients are especially created to meet their specific wants and sensibilities as they go through cancer treatment. These wigs have a number of essential qualities that make them appropriate and pleasant for individuals who are losing their hair due to chemotherapy or radiation. The key attributes of wigs used by cancer sufferers are as follows:
Cancer patients' wigs are made from soft and lightweight materials to ensure a gentle touch on sensitive scalps and to provide maximum comfort during wear.
The wigs are created using permeable fabrics or caps to avoid overheating and allow for sufficient airflow, which lessens pain during prolonged wear.
The high-quality, realistic hair fibers used in cancer patients' wigs closely resemble human hair, giving them a natural appearance.
While some wigs are pre-styled, many are flexible, enabling patients to alter their appearance and style the wig in accordance with their preferences.
Cancer patients' wigs are made to be low-maintenance and straightforward, considering the possibility of exhaustion or other treatment-related adverse effects.
Wigs for cancer patients may come in full cap styles or as partial wigs, hair toppers, or wiglets to address specific hair loss patterns or needs.
Wigs for Cancer Patients
Bob cut wigs
Bob cut wig is a popular and versatile choice for cancer patients due to their classic and timeless style. The bob cut is a short to medium-length hairstyle that typically falls around the jawline, with a straight and even cut. These wigs offer a practical and stylish option for cancer patients, providing a sense of normalcy and elegance during their treatment journey. This wig looks more natural and inconspicuous, which can help patients feel confident and comfortable in public. Moreover, this hairpiece can be styled for formal and casual occasions, making it suitable for work, social events, or daily wear.
Specifications:
Material: Flame-retardant Synthetic Fiber
Type: Full Wig
Texture: Natural looking and Soft Touch Hair
Heat Resistant Temperature: 302°F / 150°C
Hair Density: 140%
Layered Wigs
Layered wig is a type of wig that features hair strands cut in various lengths to create layers of different lengths throughout the wig. These layers give the wig a dimensional and textured appearance, replicating the natural look of layered hair.
The layering technique involves cutting the hair at different angles, which adds movement, volume, and body to the wig, enhancing its overall style and attractiveness.
Layered wigs offer various styling options, making them versatile and suitable for different occasions. These wigs are available in various lengths, textures, and materials, including synthetic and human hair options.
Specifications:
Material: High Heat-Friendly Synthetic
Type: Swiss Lace Front Wig
Texture: Soft Touch Wavy Hair
Temperature: 302°F / 150°C
Hair Density: 140%
Pixie Cut Wigs
A Pixie Cut Wig is a type of wig that replicates the short and cropped hairstyle known as the "pixie cut." The pixie cut is a short hairstyle distinguished by its closely chopped sides and back and somewhat longer top layers. It is a contemporary, edgy hairdo that oozes style and self-assurance.
Pixie cut wigs can be worn sleek and polished, tousled for a casual look, or spiked for an edgy vibe. A well-styled pixie cut wig can be a confidence booster, helping wearers feel empowered and bold with their new look. Pixie cut wigs can be styled in a variety of ways, including sleek and polished, casually tousled, and spiked for an edge. It is a fantastic wig for cancer patients. A well-fitted and trendy pixie cut wig can be a fun and transformational accessory that complements the wearer's personality and style, whether it's for a special occasion or to add a touch of flair to everyday looks.
Specifications:
Material: Kanekalon Synthetic
Type: Monofilament Lace Wig
Style: Natural Straight
Texture: Natural looking and Soft Touch Straight Hair
Temperature: 302°F / 150°C
Hair Density: 140%
Size Guide of the Wigs
Hold measuring tape at the front of the hairline
Follow the hairline to the nape of the neck and continue around the head back to the straight point
Hold the Measuring tape at the front of the hairline
Measure in a straight line down the center of the head and end at the hairline at the nape
Measure 7" back from the front hairline to find the "top of head" point
Hold measuring tape at the hairline of the top of the ear
Measure across the top of the head point and continue to the hairline at the opposite ear
Final Thoughts
Wigs play a vital role in empowering cancer patients by offering them a tool to cope with the emotional and physical impact of hair loss. By providing the ability to control their appearance, express themselves, and maintain confidence during a challenging time, wigs become more than just accessories – they become symbols of strength, resilience, and hope. As the journey through cancer treatment unfolds, the empowering effects of wigs create a positive impact on the emotional well-being of patients, helping them to embrace their unique beauty and strength in their fight against cancer.