Everything You Need to Know About Wigs for Cancer Patients
0 comments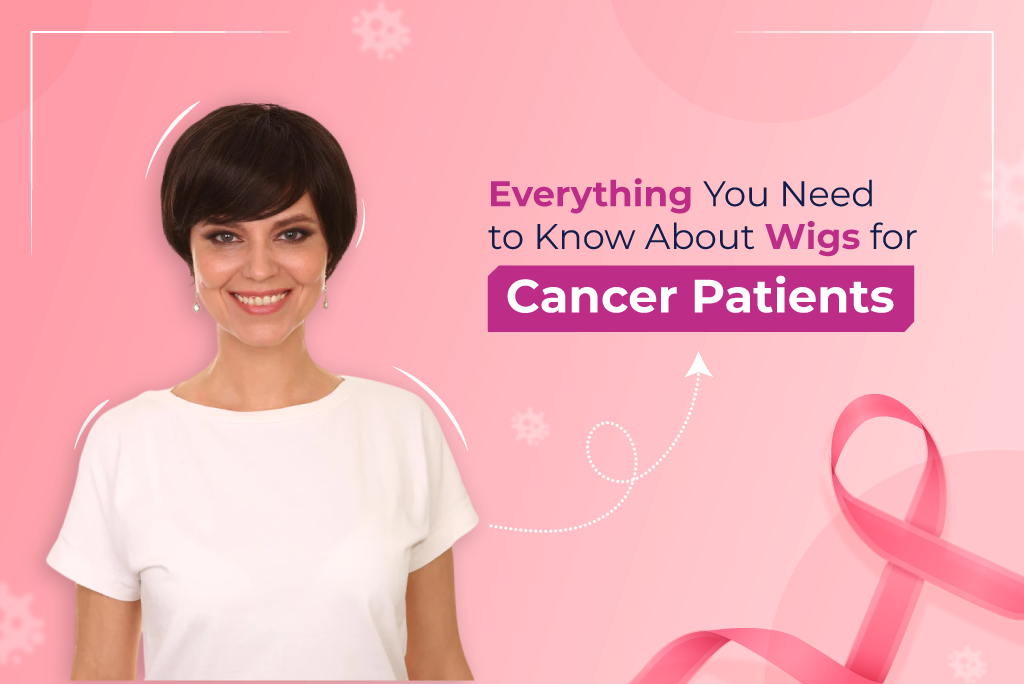 Dealing with cancer is an incredibly challenging journey, both physically and emotionally. In this case, wigs may be the best solution for cancer patients to regain their confidence. This blog will provide essential information about wigs for cancer patients and tips for choosing suitable wigs.
One of the visible effects of cancer treatments is hair loss, which can significantly impact a person's self-esteem and body image. However, thanks to remarkable innovations in wig technology, cancer patients can now access a wide range of options to help restore their confidence and feel like themselves again.
In this innovative blog, we will explore everything you need to know about wigs for cancer patients, from choosing the suitable wig to embracing the journey of self-discovery. Hope you find the writing interesting!
Choosing a Perfect Wig for Cancer Patients
Finding the right wig is a personalized process that involves considering factors such as comfort, style, and lifestyle. Cancer patients are encouraged to consult with wig specialists who can provide expert guidance on selecting the most suitable wig, considering face shape, skin tone, and desired aesthetic. To choose a perfect wig for cancer patients, it is necessary to consider some key factors. Let's discuss in detail.
Understanding Your Needs
Every cancer patient's experience is distinct. Therefore, it's crucial to begin the wig selection process by considering individual tastes, lifestyle, and desired level of maintenance. Based on personal needs, one can make choices that align with their journey and optimize comfort and confidence.
The Perfect Fit
A well-fitting wig is essential for comfort and a natural appearance. Explore different cap sizes, adjustable straps, and wig construction options to ensure a secure and comfortable fit. Understanding head measurements and seeking professional guidance can help cancer patients find a wig that feels tailor-made.
Seeking Professional Assistance
Wig specialists and stylists play a crucial role in the wig selection process. We highlight the importance of consulting with experts who can provide personalized guidance, offer wig customization services, and address any concerns or questions cancer patients may have.
Exploring Style and Versatility
Wigs allow cancer patients to explore new styles and embrace their individuality. Discover different lengths, cuts, and colors to find a wig that reflects personal style and boosts confidence. Experiment with various hairstyles and learn styling techniques to enhance versatility and adapt the wig to different occasions.
Caring for Your Wig
Maintaining a wig is crucial for its longevity and continued beauty. You need to learn essential tips for washing, conditioning, and styling your wig to keep it looking fresh and vibrant. Discover proper storage techniques and regular maintenance practices to ensure the wig remains in optimal condition.
5 Wig Styles for Cancer Patients
When selecting wigs for cancer patients, various options suit different preferences and needs. Here are five wigs that are popular choices among cancer patients.
Bob Wig
This bob wig is a classic hairstyle that has never gone out of style. This stunning design has long been popular among women due to its elegant and sleek silhouette. The bob wig gives a sleek and polished look that complements a variety of face types and personal styles, whether you're a cancer patient trying to embrace a new look or simply yearning for a change.
One of the key advantages of a bob wig is its versatility. You can effortlessly transition from daytime sophistication to evening glamour with this timeless style. For a polished and professional style, you need to wear the bob wig straight. Meanwhile, for a playful and voluminous appearance, you should add some curls or waves.
Layered Wig
The layered style wig is a captivating choice that effortlessly adds depth, dimension, and movement to your hairstyle. With its carefully crafted layers, this wig style offers a dynamic and multi-dimensional look that is both stylish and natural. It is one of the perfect wigs for cancer patients.
Designed with precision and attention to detail, a high-quality layered style wig features expertly placed layers that create a sense of depth and texture. These layers mimic the movement and volume of natural hair, giving you a realistic and natural-looking hairstyle.
Pixie-Cut Wigs
Pixie-cut wigs are the epitome of modern, confident, and edgy style. With their short and chic length, these wigs offer a bold and daring look that exudes personality and individuality. Designed with precision and attention to detail, a high-quality pixie-cut wig is expertly crafted to mimic the short, cropped style of a pixie haircut. The layers are strategically cut to enhance texture and movement, creating a dynamic and voluminous look. This style accentuates one's facial features, making them the focal point and showcasing unique beauty.
These wigs are not just a fashion statement; they are a symbol of confidence and empowerment. For this reason, pixie-cut wigs are the popular wigs for cancer patients in recent times.
Monofilament Wigs
Monofilament wigs are the pinnacle of wig craftsmanship, offering unparalleled realism, comfort, and versatility. These wigs are made with a revolutionary monofilament cap that resembles a genuine scalp, giving you a natural and seamless appearance. Monofilament wigs are the best alternative for anyone looking for the most natural-looking option. If you are a cancer patient and want to get a natural apperance, try this stunning wig that closely mimics your own hair.
The key feature of monofilament wigs is the thin, breathable fabric used in their caps. This material allows for the most realistic and natural-looking parting, creating the illusion that the hair is growing directly from your scalp. The monofilament cap also provides a comfortable and lightweight fit, ensuring maximum breathability and minimizing any scalp irritation or discomfort.
Swiss Lace Front Wig
If you're looking for an ideal wig for cancer patients, you should check out this stunning hairpiece once. This wig offers a flawless and seamless hairline that mimics the look of natural hair. The key feature of Swiss lace front wigs is the sheer and lightweight Swiss lace used at the front of the wig. This lace material is exceptionally fine and soft, providing a comfortable and breathable fit. You may part your hair in any direction and obtain a genuinely realistic look thanks to the delicate hand-tying of the lace, which ensures a natural flow and direction of the hair strands. Furthermore, swiss lace front wigs are made to be heat-friendly so you may use styling equipment to get the look you want without endangering the wig's quality.
As we continue to explore advancements in wig technology and the evolving needs of cancer patients, the possibilities for innovation are limitless. The future of wigs for cancer patients is incredibly promising, with innovations including custom-made wigs that perfectly fit unique features and cutting-edge materials that improve comfort and longevity.
Ultimately, wigs for cancer patients are more than just hairpieces. They are transformative tools that have the power to uplift spirits and instill confidence. They remind us that beauty and resilience can coexist, and that even in the face of adversity, everyone has the ability to shine. So, we should support and empower cancer patients on their unique journeys. Together, we can make sure that cancer patients also have the chance to look and feel their best and they can step forward confidently into a future filled with hope and possibility.