Gray and Gorgeous: Embracing Gray Hair Wigs at Your Middle Age
0 comments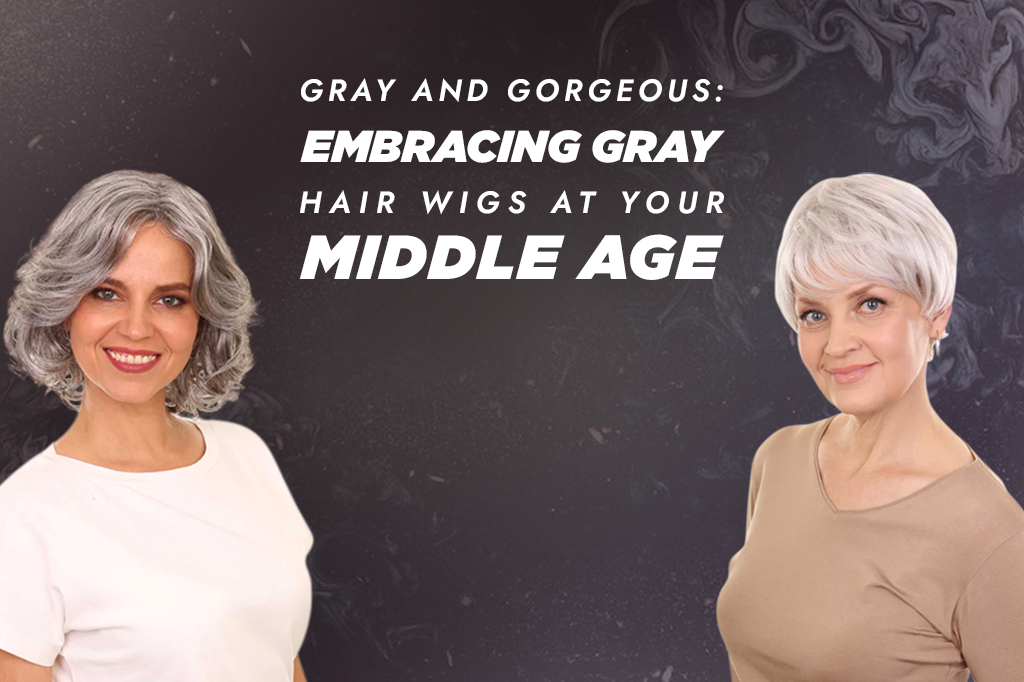 As we journey through life, our hair undergoes a transformation, and for many individuals, this includes the natural graying process that typically begins in middle age. Embracing this transition can be empowering and liberating, as it symbolizes a life well-lived and a newfound sense of wisdom.
Amidst the pressures of societal beauty standards, many have hidden their graying hair with hair dye. However, a new trend embraces the natural beauty of gray hair with gray hair wigs. This blog celebrates the empowerment that comes with embracing grays in middle age. Explore how gray wigs can accentuate your style and features, and find tips to select the perfect wig. Let's embark on this transformative journey together, embracing our natural beauty with confidence and grace. It's time to break free from conventions and celebrate the elegance that comes with embracing our grays.
The Evolution of Gray Hair Perception
In contemporary society, the focus on youth and beauty often leads people to hide gray hair. Yet, gray hair has been revered for wisdom and maturity in certain cultures. Embracing gray hair wigs challenges societal norms, promoting a positive perspective on natural aging and breaking free from stereotypes.
Wearing gray hair wigs boosts confidence, allowing individuals to embrace their age without fear of judgment. These wigs offer the opportunity to experiment with various gray shades, lengths, and styles, enhancing wearers' natural beauty and complementing their facial features. Celebrating and accepting their gray hair makes individuals feel more authentic and self-assured in their appearance. There are various types of hairstyle wigs in different gray shades you can choose from.
Different Shades of Gray
As you embrace your mid-age and consider changing your hair color, exploring different shades of gray can be a stylish and sophisticated choice. There are various shades of gray to choose from, each offering a distinct and refined look.
Salt & Pepper Gray is a natural blend of dark and light grays, creating a dynamic and textured appearance. It exudes a sense of maturity while retaining a youthful edge.
On the other hand, Silver Gray imparts a sleek and elegant vibe with its all-over silvery hue. This shade is timeless, adding a touch of class to your overall look and making you stand out in a crowd. It complements various skin tones and can be easily maintained.
If you prefer a softer approach, Light Silver Gray is an enchanting option. This shade offers a gentle transition from your original color to a luminous silver, enhancing your features with a subtle glow.
These shades offer refinement, confidence, and individuality, elevating your style as you gracefully embrace mid-age. Various styles of wigs can complement the gray shades, creating a sophisticated and fresh appearance for your midlife transformation.
Cover-up Gray Hair With Gray wigs!
Bob Layered Haircut Wig
Gray Beauty Boost:
Step into chic sophistication with our Bob Layered Haircut Wig in a stunning salt & pepper gray, elegantly blended with silver gray tones. Embrace the allure of natural grays and indulge in a touch of silver radiance. This versatile and stylish wig is your go-to accessory for a captivating and youthful look. Be the epitome of grace and confidence with our salt & pepper gray with silver gray hair wig!
Side-part Bob Wig with Bangs
Luminous Gray Bob:
Experience elegance with our Natural Wavy Barbara Bob Wig in Light Silver Gray. This side-part wig with charming bangs celebrates the beauty of gray hair, empowering women in their middle age with confidence and sophistication. Embrace your natural allure with Gray and Gorgeous, a comfortable and fashionable choice for any occasion. Flaunt your radiant, ageless allure and embrace your gray with pride and grace. Join the trend and shine with your silver locks!
Straight Bob Cut Wig
Graceful Gray Bob:
Meet 'Heather' by Still Me: the epitome of grace and style! This salt & pepper gray straight bob cut wig is perfect for embracing gray hair in middle age. It exudes confidence and elegance with a seamless blend of natural grays, empowering you to be 'Gray and Gorgeous' effortlessly. Redefine beauty at any age with 'Heather,' and shine with sophistication, embracing the change with confidence!
Hollywood-esque Pixie
Gray and Gorgeous:
Embrace middle age with Jessica by Still Me, a stunning silver gray, Hollywood-esque Pixie Wig. This Monofilament Lace Front Wig exudes confidence and elegance, perfectly complementing your natural beauty. Embrace the allure of gray hair wigs, empowering you to express yourself with flair and sophistication. With Jessica, you'll effortlessly showcase your graceful journey, making heads turn wherever you go. Own your middle age with grace and radiate with confidence while embracing the allure of gray hair wigs.
Natural Layered Swiss Lace Front Wig
Elegant Salt & Pepper:
Introducing Jennifer, a Still Me Swiss lace front wig, featuring a captivating salt & pepper gray with silver highlights. This wig celebrates the beauty of embracing gray hair in mid-age. With a seamless hairline and voluminous layers, Jennifer empowers you to showcase your evolving grace and experiment with a chic gray look. Embrace your journey, exude confidence, and step into the spotlight as the Gray and Gorgeous you!
Conclusion
Gray hair wigs offer a remarkable opportunity for middle-aged individuals to embrace their natural beauty and age with grace and confidence. By letting go of societal pressures, saving time and effort, and protecting their natural hair, wearers can focus on their personal growth and redefine beauty standards. Ultimately, the decision to wear a gray hair wig is a celebration of authenticity and an affirmation that gray is indeed gorgeous. So, let's raise a toast to embracing the grace and beauty of middle age, gray and gorgeous!