I've Got Medical Hair Loss, Now What?
0 comments
No matter the cause of hair loss, the experience can be emotionally tumultuous. Watching hair fall out on your brush, pillow, and in the shower day after day can be beyond disheartening. Oftentimes, especially for women, hair is such a significant component in what makes us feel like us, and with its loss can come a sense of unease. Know that you're not alone - according to the Cleveland Clinic, it's estimated that 50% of women experience noticeable hair loss, with around 30 million women effected by female-pattern hair loss (FPHL) in the United States alone.
Finding Community
With medical hair loss comes a slough of suggestions, from medications to wigs, and it can be difficult choosing a path and finding the right people to talk to. While family and friends aim to be as empathetic as they can, sometimes it's easier to talk to those who have walked the walk. One of the best communities to join is r/FemaleHairLoss on Reddit, where users are free to post their highs and lows, offer advice, and seek support. Additionally, there are several popular influencers with hair loss who show the styles they use and offer advice in coping with the ordeal.
 Dani Gilbert was diagnosed with alopecia at age two, and now runs a YouTube channel where she opens up about her journey with hair loss. She does wig reviews and beauty tutorials.
Shalom Blac is a burn survivor who was caught in a kitchen accident that left her with burns across her face and body. This injury, causing permanent hair loss and scars, forced Shalom to learn to love herself all over again. Now, Shalom is a social media influencer who does makeup tutorials, wig installs, and also often rocks her hairless look.
Feeling Good About Yourself Has Benefits
At the end of the day, no matter the strands on your head, you should aim to feel beautiful and comfortable in your natural glory. At the same time, there's no shame in utilizing whatever tools make you feel the best about yourself, whether it's wigs, headscarves, or going bald! Feeling good about yourself has real health benefits - according to Mayo Clinic, having good self esteem allows you to form healthy relationships, withstand stress, and feel more resilient and secure.
So what, exactly, are your options? Aside from medical talk with your doctor, there's plenty of ways to enhance and embrace your head.
Wigs
Wigs are suitable for those with full heads of hair, those with none, and anyone in-between. If you have full scale hair loss, wearing a wig is easier than ever - you don't need to wear a wig cap, unless you prefer to as it may be more comfortable on the skin. For partial hair loss, a wig cap is useful to keep your hair tucked in place, secure the wig, and create a natural, skin-like tone underneath the piece. With popularity and accessibility of wigs at an all time high, you're promised to find a complimentary style that makes you feel like you. Below are some of our favorite universally flattering cuts.
Grace in Light Auburn
Kate in Light Brown
Hair Topper
Top pieces are perfect for adding volume and thickness to thinning hair, and are most suited towards those with thinning parts. Hair toppers blend seamlessly into your natural hair to create a thicker part and overall density. Depending on the state of your hair, you may want a low density or high density topper. A density of 100% is considered low density, and 180% density is high - as the diagram below depicts. Ultimately, choosing the right topper depends on your personal preference on how much hair you want, and how much natural hair you have to work with - the most important thing is that the topper blends in with the color and texture of your hair. Here is a great example of a hair topper install! 
Head Scarves
Head scares are not only stylish for those with complete hair loss, but are protective for those with any remaining hair. With many lengths, patterns, and colors to choose from, styling a head scarf can be just as expressive as styling hair. They also work great with hair toppers and wigs - too short on time to perfectly place your hair piece? Pop your hair piece on your head and wrap a headscarf to conceal your hairline, and call it a day. Below are some of our favorite headscarves, plus a fun tutorial!
Rachel Silk Venezia Striped Silk Head Scarf, $79
Modesens South Beach Printed Headscarf, $16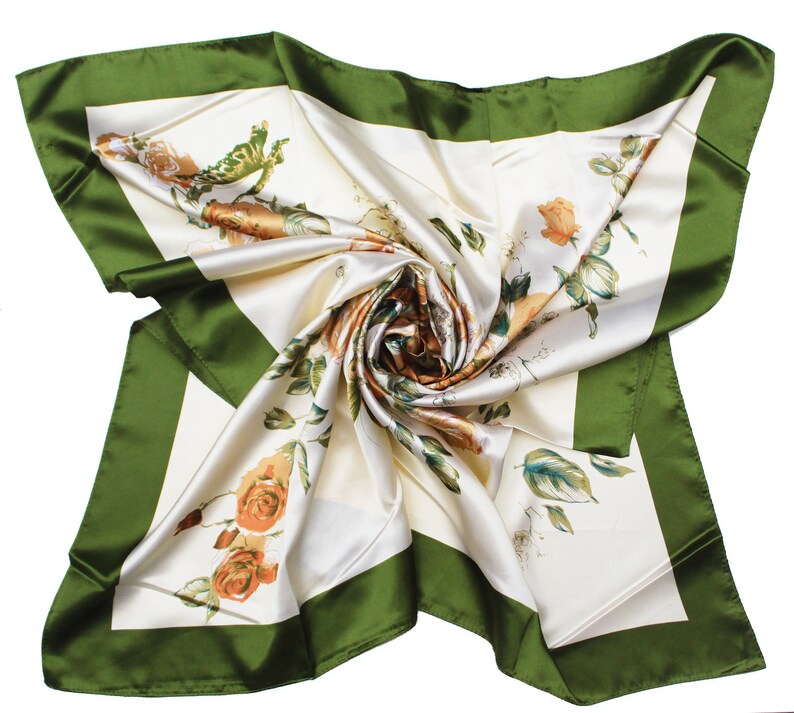 12thKnit Silky Head Scarf, $9.90