Middle-Age Magic: Enhancing Your Style with Wigs for Women Over 40
0 comments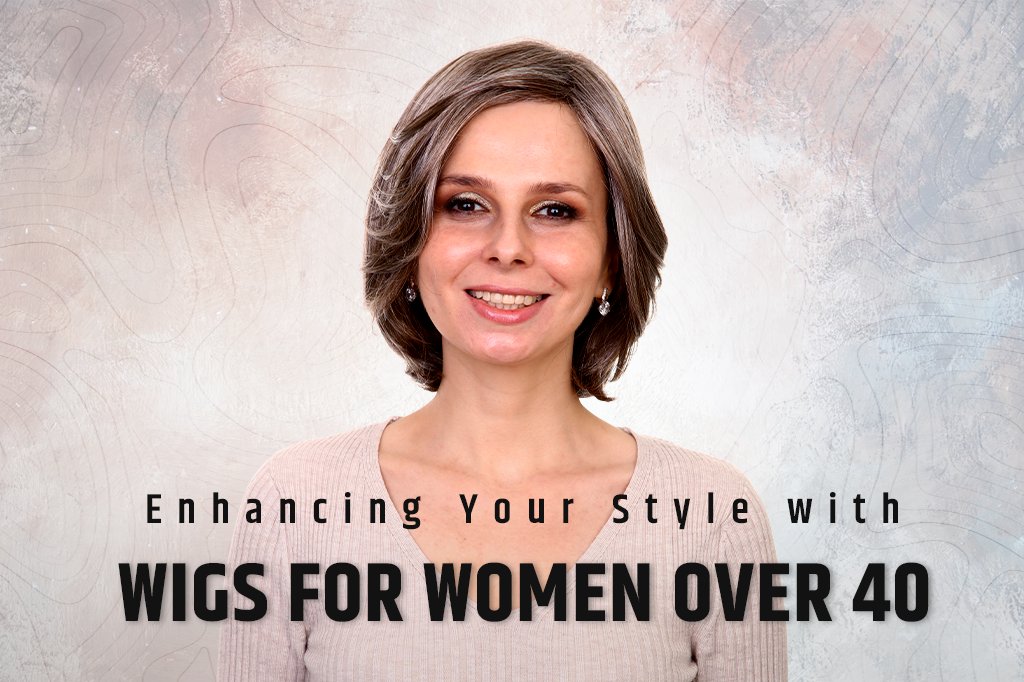 Wigs for women over 40 offer a versatile and empowering solution to enhance their hair and overall appearance. With high-quality synthetic or human hair options, these wigs provide a natural look and styling versatility. Wigs for women over 40 allow for effortless experimentation, enabling them to embrace their unique style and radiate elegance at any age.
As women age, their hair may undergo changes that can affect its volume, thickness, and overall appearance. However, this doesn't mean that women over 40 have to settle for hair that doesn't reflect their vibrant personality. Wigs provide a versatile and empowering solution, allowing women to experiment with different styles and colors effortlessly. In this blog post, we will explore the world of wigs, offering guidance on choosing the perfect wig for women over 40. Whether you're seeking a natural look or a bold transformation, we've got you covered.
Emphasize Quality:
When it comes to wigs, quality should be a top priority, especially for women over 40. Look for wigs made from high-quality synthetic or human hair. Human hair wigs offer the most natural appearance and styling versatility. They can be washed, heat-styled, and blended seamlessly with your own hair. If you opt for synthetic wigs, choose ones made with advanced fibers that mimic the look and feel of real hair. These fibers are often heat-resistant and can withstand styling tools at lower temperatures.
Find the Right Style:
When selecting a wig, consider your face shape, lifestyle, and personal style. Women over 40 often seek sophisticated and elegant looks. Consider shoulder-length or longer wigs with soft layers, which can add movement and frame your face beautifully. Styles with side-swept bangs or face-framing layers can also soften facial features and give a youthful appearance. Avoid overly voluminous or excessively long styles, as they can overwhelm your face and age you. Opt for timeless and chic cuts that enhance your natural beauty.
Natural Color Choices:
Choosing the right color for your wig is crucial for a seamless and flattering look. While experimenting with new colors can be exciting, women over 40 often gravitate towards more natural shades. Consider selecting a wig color that closely matches your current hair color to create a seamless transition. Soft browns, warm blondes, and rich auburns are popular choices that can enhance your skin tone and bring out your best features. Subtle highlights and lowlights can add dimension and depth, giving your hair a more youthful appearance.
Consider Comfort and Fit:
Comfort is essential when wearing a wig, especially for extended periods. Look for wigs with adjustable straps and secure wig caps to ensure a snug and comfortable fit. Many wigs also feature monofilament or lace fronts, which offer a natural-looking hairline and the illusion of hair growing directly from the scalp. These features allow for styling versatility and a more realistic appearance. Additionally, lightweight and breathable materials can prevent discomfort, especially during warm weather.
Maintenance and Care:
To keep your wig looking its best, proper maintenance and care are crucial. Follow the manufacturer's instructions for washing, conditioning, and styling your wig. Invest in specialized wig care products, such as shampoos and conditioners formulated for synthetic or human hair wigs. Brush your wig gently using a wide-toothed comb or a wig brush to prevent tangling and breakage. If you choose a human hair wig, you can style it with heat tools, but be sure to use heat protectant products to preserve its quality.
Confidence and Self-expression:
Above all, wearing a wig should be a confidence-boosting experience. Embrace the opportunity to experiment with different styles, colors, and lengths. A well-chosen wig can enhance your natural beauty, express your personal style, and make you feel fabulous. Remember, age is just a number, and your hair should reflect the vibrant and accomplished woman that you are.
Here are some of the best types of wigs for women over 40 that suit them best.
Classic Bob:
The classic bob is a timeless and versatile hairstyle that suits women of all ages, including those over 40. It offers a chic and polished look that exudes sophistication. The bob can be customized to suit individual preferences, whether you prefer a blunt cut or a layered style. For women over 40, a slightly longer bob, grazing the shoulders, can help frame the face and soften features. This style works well with both human hair and synthetic wigs, allowing for easy maintenance and effortless elegance.
Shoulder-Length Layers:
Shoulder-length hairstyles with layers are ideal for women over 40 who desire a youthful and trendy look. Layers add volume and movement to the hair, creating a softer and more vibrant appearance. This style complements various face shapes and can be customized to suit individual preferences. Opt for wigs with heat-resistant synthetic fibers or human hair wigs to achieve a natural look. The versatility of shoulder-length layers allows for easy styling options, from sleek and straight to tousled and wavy.
Pixie Cut:
The pixie cut is a bold and confident choice for women over 40 who want to make a statement. It exudes a sense of independence and modernity while being low-maintenance. Pixie cuts can be tailored to suit different face shapes and features, with options for longer bangs or tapered sides. To achieve a realistic and natural look, opt for high-quality human hair wigs that can be styled with heat tools. This style is perfect for women who want to embrace their individuality and showcase their vibrant personalities.
Long and Layered:
For women who prefer longer hairstyles, a wig with long and layered locks can be a beautiful choice. Long hair offers versatility and can be styled in various ways to suit different occasions. Layers add movement and dimension, creating a youthful and elegant look. Choose wigs with heat-resistant synthetic fibers or human hair wigs that can be curled, straightened, or styled in updos for added versatility. Long and layered wigs provide a touch of glamor and are perfect for women over 40 who want to embrace their femininity.
Lace Front Wigs:
Lace front wigs are a popular choice among women of all ages, including women over 40. They offer a natural-looking hairline, creating the illusion of hair growing directly from the scalp. Lace front wigs provide a seamless and undetectable appearance, allowing for off-the-face styling and versatility. These wigs are available in various styles, lengths, and colors, making them suitable for any preference. Whether you opt for a short bob, a shoulder-length style, or long and flowing locks, a lace front wig can enhance your overall look and boost your confidence.
Final Thoughts
Wigs offer a fantastic solution for women over 40 who want to enhance their appearance and embrace their evolving sense of style. With a wide range of options available, it's easier than ever to find a wig that suits your needs and preferences. From high-quality materials to flattering styles and colors, the key is to prioritize what makes you feel confident and comfortable. So go ahead and explore the world of wigs—unlock a world of endless possibilities and rediscover your beauty at any age!