Middle-Aged Women's Beauty Trend Wigs: What's Hot in 2023
0 comments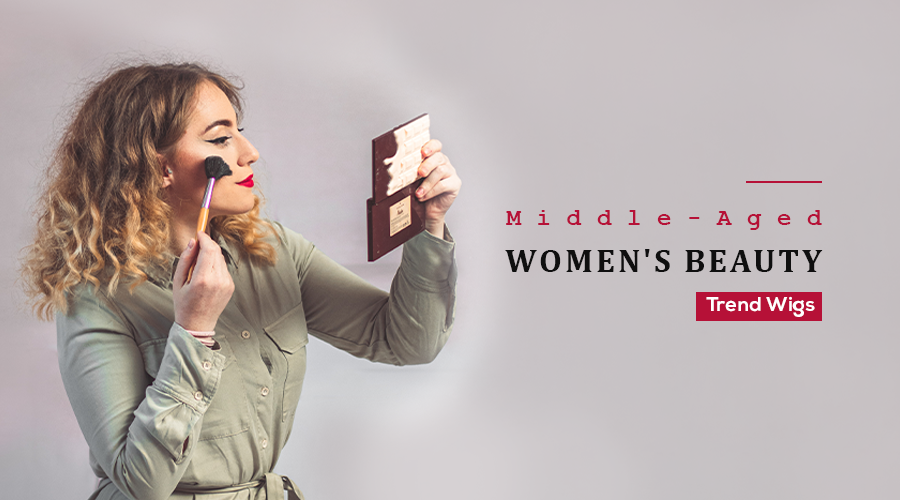 Discover the most stylish wigs for middle-aged women in 2023, from modern shags to timeless soft waves. This guide offers valuable tips for selecting the perfect wig, ensuring you stay on-trend and feel confident. Explore the latest in Middle Age Women Beauty Trend Wigs today!
In a world constantly evolving with fashion revolutions and trend makeovers, the adage "age is just a number" has never been more relevant. Especially when it comes to hair—perhaps one of the most transformative aspects of personal style. As we gracefully move into the wisdom years, there's no reason to stick to drab and uninspired hairstyles. After all, why should youth have a monopoly on experimentation and style flair?
Welcome to our comprehensive blog on Middle Age Women beauty trend wigs: What's Hot in 2023! Whether you're embracing the silver strands of age or yearning to keep up with the vivacious hues of contemporary styles, we've got something that caters to your taste. Shed any outdated notions you might have about wigs. In 2023, they are not just an accessory but an extension of your unique style, a testament to a life well-lived and rich in experiences.
What is Trending?
Finding the perfect style as a middle-aged woman can be a bit tricky, especially when you're also dealing with hair thinning or loss. But don't worry, that's exactly where trendy wigs come to the rescue. Let's dive into some of this year's hottest Middle Age Women beauty trend wigs that are not only easy to pull off but are also perfectly suited for women who are fabulously middle-aged.
Let's take a look at some of the most fashionable wig styles that are making waves this year, especially curated for the fabulous middle-aged woman.
The Modern Shag
In a stunning comeback from the '70s, the Modern Shag wig is the epitome of audacity and zest. With its layered, texturized design, this style offers a luscious volume that effortlessly ups the glam quotient. The shaggy layers create a versatile canvas, allowing you to either tame them down for a refined look or mess them up for an edgier vibe. It's particularly appealing for women of a certain age who refuse to be pigeonholed by societal expectations, exuding an unapologetic personality and vitality. Whether you're heading to a corporate meeting or a casual luncheon, the Modern Shag ensures you make a statement without uttering a single word.
Soft Waves with Side Parting
For a look that transcends time and exudes femininity, consider a wig styled with soft, flowing waves and a subtle side parting. This versatile hairstyle effortlessly transitions from daytime errands to evening galas, offering a harmonious blend of elegance and practicality. The gentle waves add volume and movement, making it a particularly flattering choice for women who are conscious of thinning hair. The side parting adds a touch of grace, subtly framing the face to accentuate your features. Ideal for the middle-aged woman who desires a timeless yet contemporary look, this wig style offers a versatile beauty solution for any occasion.
Sleek Bob
A bob is a timeless classic, and in 2023, the sleek, straight-across cut is having its moment. Versatile enough to complement various hair colors, this wig style exudes a chic, polished aesthetic that's also surprisingly low-maintenance. Whether you're heading to the office or attending a swanky event, this bob offers a look that's always in vogue. It's the go-to choice for the sophisticated woman who wants a fashionable yet manageable hairstyle. In a world of ever-changing beauty trend wigs, the sleek bob remains a steadfast symbol of elegance, making it a perfect option for women of any age who wish to embody sophistication.
Pixie with a Twist
The Pixie cut has long been a favorite beauty trend wigs for those seeking a low-maintenance yet high-impact hairstyle. In 2023, the classic Pixie is getting a modern twist with the addition of longer, textured layers on top. This updated feature adds a whole new level of styling versatility. Want to exude a rock-and-roll edginess? Slick those layers back. Looking for something softer and more feminine? Let the textured layers flow naturally. This revamped Pixie cut offers the best of both worlds: the ease of a short cut with the style flexibility usually reserved for longer hair. It's a must-try for anyone wanting to make a statement with minimal effort.
Long and Luxurious
Defying the conventional wisdom that long hair is the domain of the young, a wig featuring long, luxurious locks can be a fantastic choice for the more mature woman. Not only is it incredibly flattering, but it also opens up a wide array of styling possibilities—from flowing waves to elegant updos. To elevate the look further, consider options with subtle highlights or ombre tones that add dimension and beautifully frame the face. Whether you're going for a casual, boho vibe or a more formal, polished look, long-haired wigs offer versatility and glamour for women of all ages.
 What Should You Consider Before Selecting a Trendy Wig for Middle-Aged Women in 2023?
Before you invest in a trendy wig as a middle-aged woman in 2023, there are several key factors to consider to ensure you get the best fit, style, and value for your money. Here's what to look out for:
Quality of Material: Human hair wigs are generally considered the most natural-looking and are easier to style, but high-quality synthetic wigs have come a long way and can be a more budget-friendly option.
Cap Construction: Look for a wig with a comfortable cap that allows for good air circulation. Options with adjustable straps or an elastic band can provide a more secure fit.
Natural Look: Whether it's the hairline, parting, or the way the hair flows, the wig should look as natural as possible. Lace fronts and monofilament tops can offer a more realistic appearance.
Versatility in Styling: Choose a wig that can be styled in multiple ways, especially if you like changing up your look. Textured layers, for example, can offer more styling options.
Color: While you might be tempted to try something dramatically different, sticking close to your natural color generally yields the most flattering results. For something a little different, consider wigs with highlights or ombre tones.
Length: The length should suit your lifestyle and comfort level. Longer wigs offer more styling options, but shorter wigs are generally easier to maintain.
Maintenance: Check what kind of maintenance the wig will require. Human hair wigs often need more upkeep than synthetic ones, so consider how much time you're willing to invest.
Consult Reviews or Professionals: It's always wise to consult online reviews or seek advice from professionals before making a purchase. They can provide insights that you might not have considered.
Personal Comfort: Ultimately, the wig should feel comfortable on your head. If possible, try it on before purchasing to ensure it doesn't itch, pinch, or feel too tight.
Budget: While it's tempting to go for the cheapest option, remember that a quality wig is often a worthwhile investment, especially if you plan to wear it frequently.
By keeping these factors in mind, you're more likely to find a wig that not only taps into the hottest trends of 2023 but also suits your individual needs and style.
Final Thoughts
By considering factors like quality, comfort, and versatility, you can make an informed choice that enhances your natural beauty and keeps you in step with the latest Middle Age Women beauty trend wigs. So, embrace the freedom and fun that comes with sporting a trendy wig, and step out in confidence, knowing you're as stylish as ever. Thank you for joining us on this journey through the hottest beauty trend wigs of 2023. We hope this guide has empowered you to make a fashion-forward decision that you'll love.