Pros & Cons of Wig and Natural Hair for Beautiful Middle-Aged Women
0 comments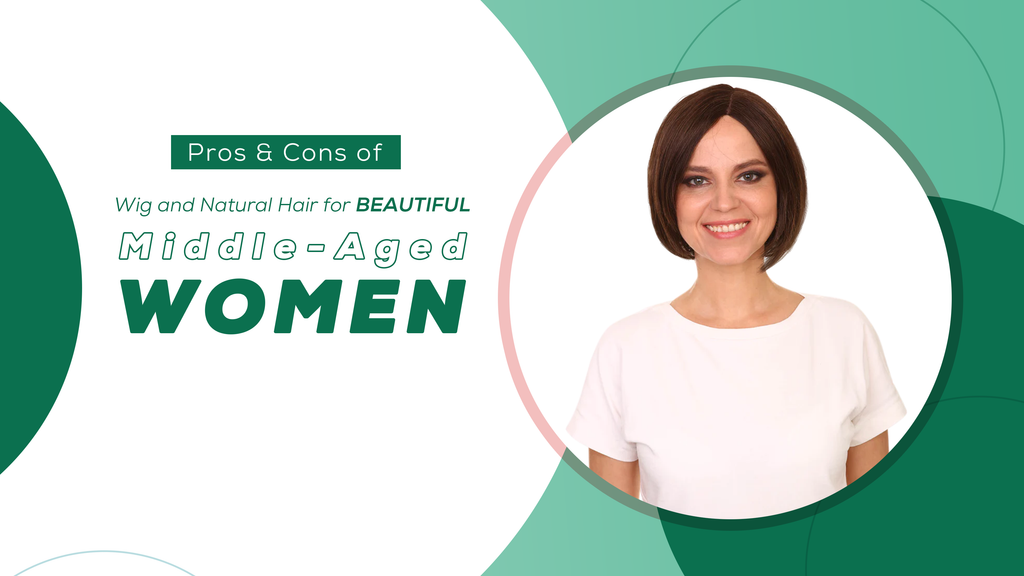 Hair has always been a symbol of beauty and self-expression for women. As women reach middle age, they often face various challenges related to their hair, including graying, thinning, and changes in texture. Many middle-aged women consider wigs an easy remedy to these problems, but is that always the best option? This blog will discuss Wigs vs. Natural Hair of middle-aged women. We'll also introduce some beautiful middle-aged women's wigs here.
Embracing Your Authenticity with Natural Hair
Natural hair is a source of pride for many women. It represents authenticity and a connection to one's heritage and personal history. Here are some pros and cons of choosing to embrace your natural hair as a middle-aged woman:
Pros of Natural Hair
Embracing your natural hair can be a potent act of self-acceptance.
Numerous styling options are available for people with natural hair. Your natural hair can be styled in various ways depending on your mood and the situation, whether curly, straight, or wavy.
Taking good care of your natural hair helps encourage a healthy scalp, lowering the chance of dandruff and itching.
Maintaining natural hair can be more cost-effective than investing in high-quality wigs.
Cons of Natural Hair
Natural hair frequently requires more time and work to wash, style, and maintain, especially as it ages and starts to lose some of its youthful sheen.
The texture and color of middle-aged women's natural hair may alter, lowering their confidence and self-esteem.
In particular, if they have specific length or texture preferences, some women may feel that their natural hair restricts their styling options.
Enhancing Elegance with Beautiful Middle-Aged Woman Wig
Wigs are a common choice for middle-aged women who want flexibility and the ability to change their appearance easily. Here are some benefits and drawbacks of wearing wigs:
Pros of Wigs
With a beautiful middle-aged woman wig, one can instantly change her hairdo and color without making commitment.
Compared to natural hair, wigs need less upkeep every day. They are easily put on and taken off.
There are countless options for wigs to match your preferences and moods because they are available in various styles, lengths, and colors.
Beautiful middle-aged woman wigs can increase the confidence of aged women by successfully hiding their hair problems like thinning, bald areas, or damage.
Cons of Wigs
Beautiful middle-aged woman wigs are expensive and may require additional maintenance costs, such as cleaning and restyling.
Wigs can itch or feel painful on the scalp for middle-aged women, particularly in warm temperatures.
It may take some practice to wear and style wigs properly, and it can take some time to get acclimated to the process.
While the stigma surrounding wigs has diminished significantly, some women still worry about being perceived as inauthentic or fake when wearing them.
Making the Right Choice
Choosing natural hair or wigs will ultimately depend on the individual's preferences, lifestyle, and priorities. The following factors should be kept in mind before selecting a specific option.
Take into account your daily schedule, interests, and pursuits. A wig could be a sensible option if you have a hectic schedule or frequently partake in activities that could harm your natural hair.
Consider your budget and the amount you will spend on hair styling and maintenance. Beautiful Middle-Aged Woman Wigs, particularly high-quality ones, can be costly.
Reflect on how each option makes you feel. Does embracing your natural hair boost your self-esteem, or do you feel more confident with the versatility of wigs?
Wearing wigs can act as a protective measure to encourage healthy development if it's damaged.
While there are countless options with wigs, having natural hair can also be lovely if you are happy.
Wearing a wig in hot and humid weather can be uncomfortable. So, natural hair may be a more practical choice in such conditions.
Wigs for Middle-Aged Women
As middle-aged women navigate the changes that come with aging, wigs can become valuable tools for enhancing confidence and style. Here, we will explore some beautiful middle-aged woman wigs.
Short Pixie Cut Wigs
The pixie cut is a classic and iconic hairstyle recognized for its short length and daring, fashionable appeal. Middle-aged women who desire a low-maintenance yet high-fashion look love this style as their go-to. Pixie cuts require cutting off your natural hair, so committing to one might be a significant move.
Pixie cut wigs come in various styles and variations to suit your unique preferences. Here are some popular pixie cut styles you can consider:
Classic Pixie Cut: This is the quintessential short pixie cut, featuring short sides and back with slightly longer hair on top. It's simple, chic, and timeless.
Asymmetrical Pixie: In an asymmetrical pixie cut, one side of the hair is frequently longer than the other. It gives the traditional fairy an edgy, contemporary twist.
Layered Pixie: Layers can add volume and texture to your pixie cut, creating a more dynamic and stylish look.
Textured Pixie: Textured pixie cuts have a slightly tousled or messy appearance, providing a carefree and effortlessly cool vibe.
Natural Bob with Side-part Bangs
The bob haircut has remained a classic and popular choice among women for decades. It is a go-to choice for individuals looking for a stylish and classic appearance due to its simple design, clean lines, and versatility. The natural bob acquires a modern and fashionable twist when worn with side-part bangs that flatter various face shapes and hair types. It is one of the most beautiful middle-aged woman wigs of all time. Some essential qualities of Natural Bob wig are as follows:
The natural bob wig exudes sophistication and never goes out of style.
The side-part bangs of this wig add a touch of softness to the angular lines and frame the face beautifully.
This hairstyle is versatile and suitable for various occasions and age groups. You can easily dress it up or down, depending on the situation.
The natural bob with side-part bangs is relatively low maintenance compared to longer hairstyles.
Classic Monofilament Lace Front Wig
The classic monofilament lace front wig is a type of wig that combines a monofilament cap and a lace front. This wig is popular among individuals looking for high-quality and natural-looking hair replacement options. Here are some key features of Classic Monofilament Lace Front Wigs:
The monofilament cap is a key feature of this wig. It involves using a delicate, breathable mesh material at the crown area.
The monofilament cap offers a scalp-like appearance, allowing for a realistic parting and the illusion of hair growing directly from the scalp.
The lace front of this wig allows the hair to be styled away from the face, offering versatility in hair parting and styling options.
Cap Construction of Traditional Wigs for Middle-Aged Women
The wig cap includes a full lace crown for maximum coverage and volume.
Open wafted back and sides of the cap allow ventilation for keeping the scalp as cool as possible.
The cap also includes adjustable lining and ear tabs.
The velvet-lined front hairline and nape increase comfort around the hairline and nape.
Final Words
Remember that beauty comes in many different forms and that what counts most is how you feel about yourself. Whether you embrace yourself by wearing your hair naturally or choose the adaptability of wigs. Beautiful middle-aged women can make this choice with assurance since they can select the option that best meets their requirements and preferences.