Understanding the Lifespan of Medical Wigs
0 comments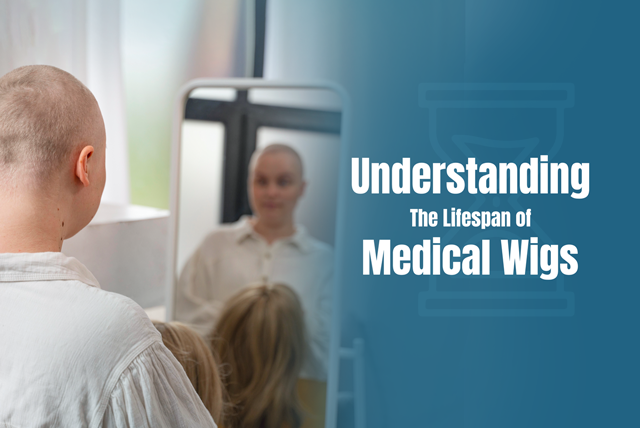 Since patients with cancer, alopecia, or other scalp complexities look for comfort while wearing wigs, the material used in the medical wig must be breathable and soft. For this reason, understanding the lifespan of medical wigs is crucial.

From this blog, you will learn about the critical factors of medical wigs for cancer patients. Also, we will discuss some of the wigs that a cancer patient would always desire to acquire. Let's enjoy the reading!
Nowadays, the majority of cancer patients prefer to get medical wigs. One of the key characteristics that differentiate medical wigs from fashion wigs is the cap construction quality. The medical wig cap is made of quality materials that are soft and comfortable to wear. This is because patients who wear medical hair wigs need the maximum level of comfort. Also, sometimes, medical wigs for cancer patients contain silk, which gives the wig a natural appearance
The Lifespan of Medical Wigs
The lifespan of medical wigs depends on different vital factors. We will discuss those factors in detail below: Let's have a look:
Construction of the wig
A medical wig's longevity is greatly influenced by how it was built. Most premium medical wigs are constructed from synthetic or natural human hair. Although synthetic wigs are sometimes cheaper than human hair wigs, they typically have a shorter lifespan. Human hair wigs can last up to a year or longer with adequate care, whereas synthetic wigs usually last between four and six months.
Materials Quality
Medical wigs' lifespan is also impacted by the quality of the materials. Wigs made of high-quality materials will typically last longer. So, it is crucial to choose a medical wig made with sturdy, lifelike-looking fibers or human hair while making your selection. Investing in a reputable brand or consulting with a wig specialist can help ensure you get a high-quality wig that will stand the test of time.
Usage Frequency
The more frequently you wear your medical wig, the faster it will experience wear and tear. If you wear your wig daily, it may have a shorter lifespan than someone who wears it occasionally. So, to extend the lifespan of your medical wigs, think about getting multiple options or switching between various types.
Environmental Factors
Environmental conditions can impact the longevity of your medical wig. Excessive exposure to sunlight, chlorine, saltwater, or high humidity can cause the fibers to degrade faster. Whenever possible, protect your wig from these elements or use suitable hair products to shield it.
Medical Wigs for Hair Loss Patients
Take a look at the following recommendations for medical wigs if you are experiencing hair loss and want the ideal wig to boost your confidence:
Bob Cut Wigs
A Bob Cut Wig is a type of wig replicating the popular bob haircut. This classic and adaptable hairstyle is defined by hair that is straight or slightly wavy, chin-length, or marginally longer. To quickly attain the desired bob look without changing their natural hair; people can use Bob Cut Wigs, created to resemble this traditional hairstyle.
Depending on the wearer's taste, these wigs are offered in various lengths, from short to longer bobs. To give them a natural and realistic appearance, high-quality synthetic fibers or real human hair are used in their creation. While human hair Bob Cut Wigs are more versatile and allow heat styling and customization, synthetic Bob Cut Wigs are frequently pre-styled and require little care.
For people who want to experiment with various hairstyles or who might be experiencing hair loss and want to improve their appearance, Bob Cut Wig offers an easy answer. It is one of the most popular wigs for cancer patients.
Layered Haircut Wigs
Layered haircut wigs are a fantastic solution for people who wish to modify their hairstyle without cutting their hair and facing hair loss issues.
Wigs with layered haircuts come in various styles, lengths, and textures to accommodate diverse tastes. They can be made from synthetic fibers or natural human hair, each with its own set of advantages and considerations.
Synthetic layered haircut wigs are typically more affordable and require less maintenance. They come pre-styled with the layered haircut and retain their shape even after washing. However, they may not offer the same level of realism as human hair wigs and have limited styling options.
When choosing a layered haircut wig, it is necessary to consider factors like length, color, texture, and the quality of the wig's construction. Overall, it is a perfect wig for cancer patients that offers a convenient and versatile solution for changing a patient's hairstyle.
Natural Straight Pixie-Cut Wig
A pixie cut is a short hairstyle characterized by cropped length, short layers, and a longer top section. It is a popular choice for individuals who want a chic and low-maintenance hairstyle.
A natural straight pixie-cut wig is typically made from synthetic fibers or human hair.
The natural straight pixie-cut wig features short layers throughout the wig, giving it the signature pixie look. The top section of the wig is usually slightly longer, allowing for some styling versatility. The hair is straight, lacking curls or waves, giving it a sleek and polished appearance. When choosing a natural straight pixie-cut wig, you have options in length, color, and cap construction. You can select a wig that matches your desired pixie length, whether you prefer a shorter or slightly longer style. constructions include traditional caps, lace fronts, and monofilament tops, each offering different benefits.
Overall, a natural straight pixie-cut wig is a convenient and versatile option for those who want to try out the pixie haircut without committing to cutting their own hair. It allows you to experiment with different styles and colors while providing a realistic and stylish appearance.
Natural Wavy Wig
A natural wavy wig is a wig that is designed to replicate the appearance of wavy hair with a natural texture. Wavy hair is characterized by soft, gentle waves that add movement, body, and dimension to the hairstyle.
Natural wavy wigs are ideal for individuals looking to change their hairstyle temporarily, experiment with a different look, or deal with hair loss or thinning. When choosing a natural wavy wig, consider factors such as cap size, fit, and the quality of the wig's construction to ensure a comfortable and natural-looking result.
In a word, a natural wavy wig allows you to effortlessly achieve the beautiful and voluminous look of wavy hair, enhancing your overall appearance with grace and style. It is also a preferable wig for cancer patients in recent times.
Understanding the lifespan of medical wigs for cancer patients is undoubtedly crucial. By investing in quality wigs, implementing proper care and maintenance routines, considering the frequency of use and lifestyle, and adapting to hair growth or changes, you can maximize the lifespan of your medical wig and ensure it continues to provide the confidence and comfort you deserve.
However, since every person's experience is unique, it is crucial to seek professional advice as necessary. Your medical wig can be a dependable and enduring option on your path to restoring your sense of self and accepting your beauty with the correct information and upkeep.